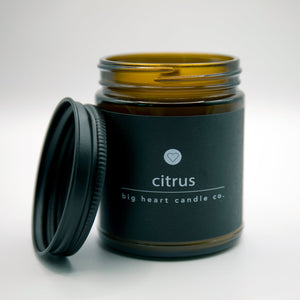 top note: lemon
heart notes: orange
base notes:  lime, sugar
scent throw: medium
citrus is a bright, sunny, tangy, and sweet mood lifter. The secret to this hand crafted candle is a little bit of peach to help carry those light lemon and lime scents. citrus will brighten up your kitchen and refresh your bath. You will love this one for spring and summer and any time you are in the kitchen.
candle highlights:
8oz. amber glass jar
wooden wick is sourced from an FSC (Forest Stewardship Council) certified mill and lend a modern aesthetic and a relaxing cackling sound.
hand crafted using a proprietary blend of coconut and other waxes.
formulated using only fine fragrance oils that are phthalate-free and include candle-safe essential oils.
Help keep your candle in top condition with our wick trimmers! Using a wick trimmer allows you to easily keep your wicks trimmed and candles debris-free so you can get the most out of your purchase.