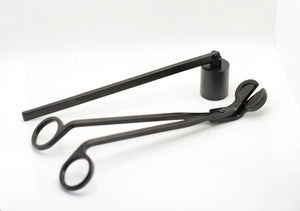 Hefty, black wick trimmer and candle snuffer set.
Keeping your wick trimmed before each burn is the single most important way to prolong the life and improve the burn of your candles. 
Tired of a smoke filled room after you blow out your candle? No more smoke or scattered debris with our snuffer!  Simply cover the flame with the open end of the snuffer barrel until the tip meets the wax pool. Hold for a second or two and then lift the snuffer straight up - be mindful of the hot wax!
This candle care set arrives packaged in a soft draw string bag. The trimmer is 6.75" L X 2.25"W x 1.25"H and the snuffer is 7.5"L x 1"W x 1"T.